AL
Alvaro Sandoval
December 19, 1968 - April 23, 2002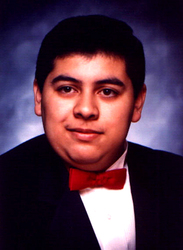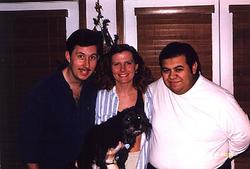 A true definition of the word "friend".

Mere words seem inadequate to convey my deep feelings for Al. He was so devoted and loving. He helped Bobbi and I in so many and varied ways. He worked backstage, repaired props, appeared on stage as an assistant, loaded illusions etc. He also listened, advised, had a great sense of humor and wonderful taste in music.
During our marriage Bobbi and I were never separated for more than day. So when she went away for a month to New Hampshire to work on the primaries I was a wreck. I have very distinct memories of Al driving me around with the windows down and music playing. He never said a word. He just drove. He knew.
Al had been ill with gastro-intestinal issues and was recovering from surgery and a hospital stay. We had visited and seen him often. However over the summer between selling our house, working and Bobbi's father passing we had neglected our contact with Al.
Unfortunately communciation through his family was complicated and so we were never aware that his physical issues had returned. So on December 5, 2002 I prodded my sister to call Al annd break the news of Bobbi's passing. It was with great disbelief she told me Al had passed earlier that year in April.
I was grateful he was spared the pain of Bobbi's passing but I missed his quiet comfort in following months. He was my friend and showed me the true defintion of the word. He did this through his actions and his heart.

Talking with Bobbi between shooting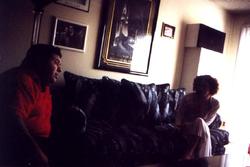 Al was a three o'clock in the morning friend. That is how I often describe true friends and especially Al. He was someone you could call at three o'clock in the morning for help without reprisals or questions.
Backstage New Year's Eve 1999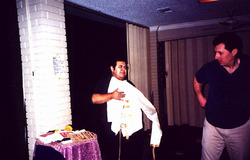 Al graciously worked as a driver for our trip to Texas. We were booked for New Year's Eve 1999 at a private country club in my hometown of Arlington, Texas. It was wonderful to show him my home town and where Bobbi and I met and fell in love.
Party at the Magic Castle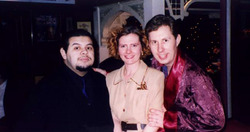 At Disneyland