Disneyland
The Happiest Place On Earth

is not far from the truth. Bobbi did not share my enthusiasm for amusement parks. She did not care for the lines and the crowds but here it was different. Some of my most prominent memories of Bobbi smiling and laughing are associated with Disneyland.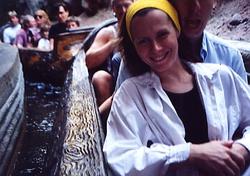 Splash Mountain. This is one of my favorite shots of Bobbi. She is genuinely laughing and the joy comes through the photograph.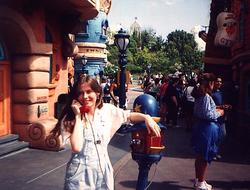 Toon Town. She is listening to various recorded conversations of Disney characters. Her favorite ride in Toon Town was Roger Rabbit's Big Spin. She liked to sit in the driver's seat and really spin that little car.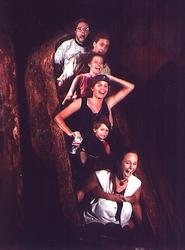 Splash Mountain (again). The BIG drop! That's T.C. Tahoe screaming in the back seat.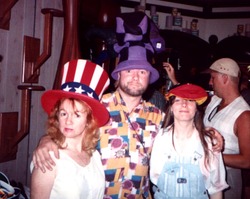 Funny Hat Time. Lesley Lang and T.C. Tahoe were frequent companions to the park. Notice Bobbi's whimsical expression.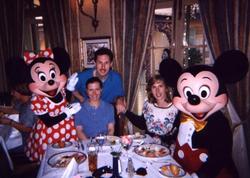 Club 33. Sunday brunch with Mickey, Minnie and my sister Lauren. Club 33 is a private member's club inside the park. We loved to go and often used it as a reward after a long run.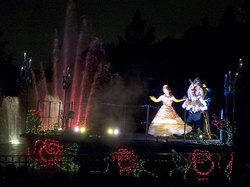 FANTASMIC!
This is an outdoor show that takes place on the Rivers of America. It is a choreographed spectacular that weaves live action Disney characters with projected film images on walls of water mist. The special effects include a fifty foot fire breathing dragon that sets the entire river ablaze.
Midway through the show; accompanied by their individual themes; the four Princesses (Snow White, Sleeping Beauty, Ariel and Beauty) float across the river. When Beauty appeared and the theme music began Bobbi and I would find each other's hands and squeeze. Tears welled up as we shared this quiet moment amidst the hundreds of others watching the show.
I often have thought of moments I would wish to relive. This would be one.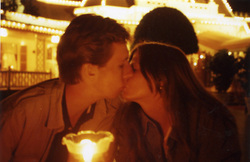 A Kiss on Main Street. This photo was taken by our good friend Mark Nelson as the Main Steet parade began.